MISINFODEMIC RESOURCES & REFERENCES
KEEPING YOUR HEAD SCREWED ON: DEBUNKING MISINFORMATION
If you are coming from a direct link, please keep in mind this is the second page of my Covid Resources – specifically this is my Misinfodemic References, for my tips and tools on Covid in general, refer to Page 1 here.

I have separated these addendums to keep my personal views away from the document itself so that the previous section can stand on its own.

Some might ask what qualifies a TCM practitioner to write and post so much on pandemics, misinformation, and vaccine science? I've been dispelling myths and translating TCM to modern audiences even before my professional career. Our advanced TCM training (our "Doctor" title is still undergoing legislation, but is on its way) consisted heavily of modern biomedicine, pharmacology (of which we were trained more than an average GP MD due to our combining advanced herbal formulas with modern medications), pharmacodynamics/kinetics, training in and conducting formal science-based research, and obviously historical epidemics (the leading killers of the time) and their treatment with highly technical herbal formulas, refined through centuries – simply not found in historical Western medicine (which instead was burning witches at the stake in a parallel timeframe…)

But again – does this specifically give me the expertise to discuss vaccinology? No. Absolutely not. And that's the point: We should all be generally listening to the extremely well trained, exhausted professionals in their fields: the nurses, the lawyers, the research scientists, and the immunology/vaccinology experts who all have come together to shape public policy. To protect public health.

So when I see people in my social media feeds discussing vaccines or masking it is blatantly obvious the vast majority of us have zero idea what they are talking about. How do I know? Because *I* have no idea what I'm talking about – and the more I listen to the actual experts listed below (especially on LinkedIn and Twitter) the more I realize that. Here I agree with Bakunin's "in the matters of the boots we defer to the bootmaker". This is why my entire thesis has been around #debunk: learning to debunk ourselves for the betterment of human health and public discourse.

Lastly this has all cumulated into me writing an actual book, so far totalling over 150 pages – check out the Public Draft here.

*Note I've *chosen* to post less direct studies as many if not most of these articles reference them, rather than double posting. Articles are just easier to understand for the general public, if you want to dive deeper into the research, follow the citation they provide (which I have yes vetted for myself).

MISINFORMATION DATABASE: Keeping Your Head Screwed On: Debunking Conspiracies

Fact Checking Resources
General Misinformation Overviews
Conspirituality Overview
Masks
The Vaccine

Overview/Summaries
Transmission & Vaccinated vs Unvaccinated
MRNA/Spike Protein
Vaccine Capitalism (Pfizer, etc)
Omicron/Boosters/Israel
Mandates/Convoy
Long Covid, Post Convoy, Omicron Subvariants
Antivax Conspirituality & the Rise of Right-Wing Extremism
Pregnancy
Side Effects
QUACKS: Ivermectin/Weinstein/Battacharya/GBD/Rogan/Russel Brand etc
Actual Evidence-Based Personalities to Follow

2020 Archive

2020 Debunked: "Plandemic", Bill Gates, 5G etc
Big Picture (Now Outdated)
Emerging Newsfronts
Socio-Political Implications

---

Let's begin with this:
Where I stand on the politics, you can read more in my public drafts as I prepare to launch my weekly blog series. That's right! No more half hour-long articles from me, just reader-friendly updates. Stay tuned!
✨PLEASE BEGIN WITH MY ESSAY SERIES: (and always remember, it's as easy as typing "debunk" into every web search you do!)
COMBATING MISINFORMATION IN THE COVID-19 ERA (Parts 1-2)
1. FACT CHECKING DATABASES
2. GENERAL ARTICLES
3. CONSPIRITUALITY IN GENERAL
(References from my Misinformation 2 Essay)
4. MASKS
We've always known masks are not perfect, nor any single Covid measure which is why I begin this section with the Swiss cheese and precautionary principle. We have to use all the tools in the toolbox against an unknown dangerous pathogen. Even if they prove less effective, we needed ALL the tools until we understood what we were up against. To flout those, demonstrates a deep self-centredness as because the jury is still out, why not simply opt to protect others than risk transmission? And yes, I may be harsh in my claim of self-centredness – this is because will never know the numbers of how many people died as a result of someone not wearing a mask. Because they have.
And again, even if they prove less effective, that is how science works – we learn more, and now right on cue mask mandates are being lifted as we get a grip on the pandemic – no conspiracy required. Was it really too much to ask? Rather than assuming you have the answers, approach professionals, especially those I have listed below, with inquisitive respect rather than arrogant shitposting (hence my clear frustration in these personal notes). If anti-maskers are really so confident, please go to Wikipedia and start editing the "Masks during Covid" page.
I can go on, but it's boring. Frankly, don't be a douche, wear a mask when advised.
5. THE VACCINE
(Citation database for my upcoming Misinformation blog series/book)
OVERVIEWS/SUMMARIES
TRANSMISSION & UNVACCINATED vs VACCINATED (aka Vaccines Work… Extremely well.)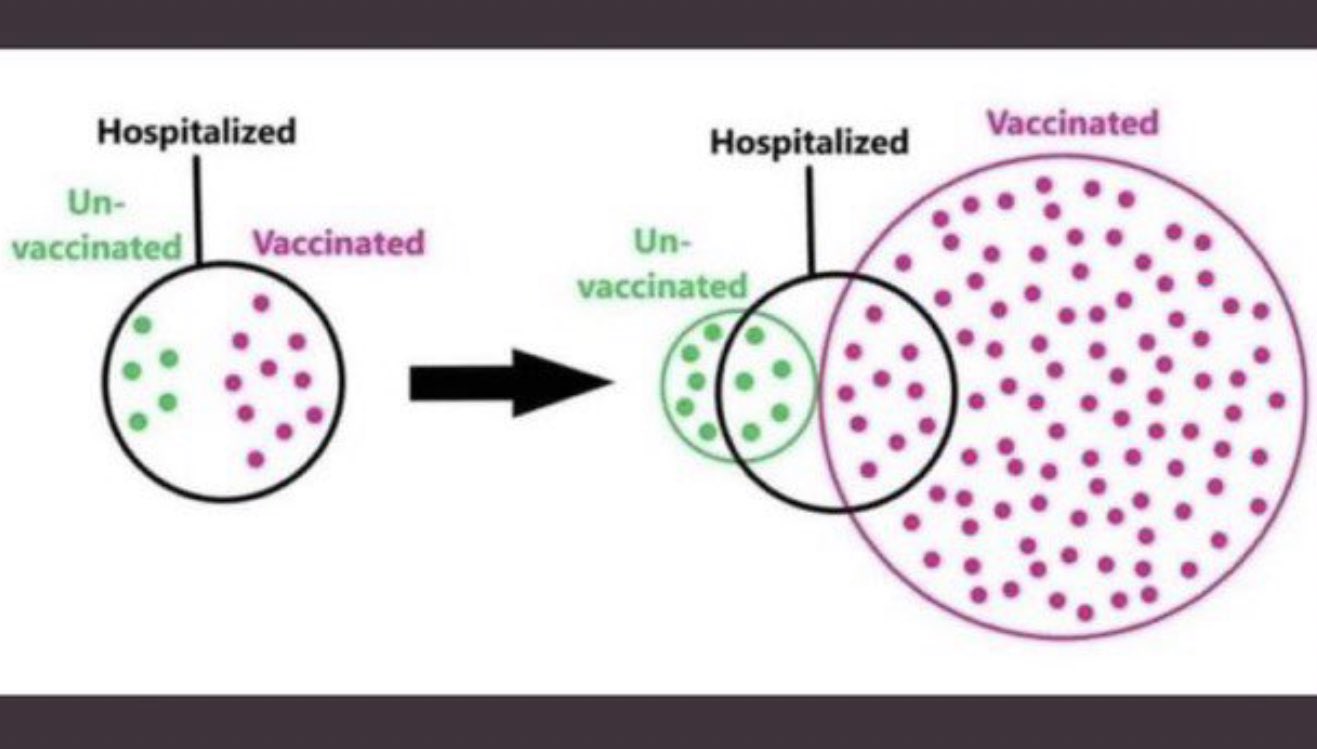 MRNA VACCINES & SPIKE PROTEIN
CAPITALISM IS THE CONSPIRACY (Vaccine Capitalism Fronts I'm Monitoring)
OMICRON, BOOSTERS & ISRAEL
MANDATES & THE CONVOY
My initial views on the Convoy can be found here – more on the way!
As can be found in my final Misinformation Essays, I'm quite on the fence when it comes to mandates, and absolutely see both sides of the issue. While I actively avoid posting YouTube content and choose researched articles instead, the ZDoggMD video below shares a similar view that I have. Yet that said to me, it always comes down to numbers: If it can be shown that mandates save lives by increasing vaccination rates, then I am generally for them as a health professional with public health in mind. Lives trump a temporary loss in personal freedoms, as the vast majority of Canadians agree, in our democracy. If you don't agree, as I show below, check yourself for eugenics/ablelism – and the ring-wing commentators some blindly follow (ahem, Peterson). MUCH more on this in my next essay.
NOTE: Unlike the other science-based sections above/below, this one I make no attempt to hide my obvious bias here. These articles are posted to illustrate my thesis of far-right politicization that does not serve public health nor workers. So to whom does this serve?
LONG COVID, POST-CONVOY & BA-2+
ANTIVAXX CONSPIRITUALITY and the SLIPPERY SLOPE TO RIGHT WING EXTREMISM
I launched my misinformation campaign the day the lockdowns began here in Ontario. That was my original intent: to prevent needless strain on mental health by debunking misinformation. I didn't expect this to become a partisan issue – I had no political agenda besides promoting "#debunk". This trend emerged on its own, not due to my bias. So, despite how it may seem – I'm not being partisan in my views: just calling out those who are, those who have co-opted a public health crisis to advance their own political agenda – and you should be angry about that. My views are evidence based – and I'm sorry if the evidence "leans left" – you may need to reflect on why. I didn't choose this – it emerged, I'm simply an observer: these facts revealed *themselves*. So if there is confusion or surprise why Nazis have appeared, here's why: There may be a need to take a step back from the echo chamber of cult personality some surround themselves with, that has blinded this very obvious trend I've been documenting for 2 years and is dangerous. No state actor conspiracies required.
PREGNANCY & PRO-CHOICE
SIDE EFFECTS
Much more on this subject on the way as I strive be balanced in my reporting. Long story short: Get vaccinated.
ENDEMIC/HERD IMMUNITY
QUACKS: IVERMECTIN/JOE ROGAN/RUSSEL BRAND/AFLDS etc
ACTUAL DEBUNKING & FACT-BASED SOCIAL MEDIA ACCOUNTS TO FOLLOW
There are so many more, please send me your favourites because #TeamDebunk has the most fun! 😜
---
SPRING 2020 ARCHIVE
6. "PLANDEMIC" (Please read the articles in General, above, first)
6. BILL GATES (Please read the articles in General, above, first)
8. 5G AS A CONNECTION TO COVID-19 (Please read the articles in General, above, first)
(I have less here because… of how little time I've devoted to the topic because of how silly it is. And to be clear, this is specifically on the claims of 5G related to Covid – not a discussion on the safety of 5G itself, per se)
THE BIG PICTURE/NEWS SUMMARIES
EMERGING NEWSFRONTS
SOCIO-POLITICAL IMPLICATIONS
Not wanting to wade into political debate… But these are simply pretty hard to argue against.